10 Vital Résumé Fixes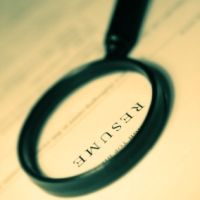 You've been told enough times that your résumé needs to be void of any typographical or grammatical errors that it's one area you are actually confident about in your job search. Why, then, aren't you getting any response from the hundreds of résumés you have floating around in the employer world?

Surprisingly, there are many more mistakes that might exist on your résumé, many of which you aren't aware. Your e-mail address, for example, could be the one reason you aren't seeing anything in your inbox. Employers are less likely to respond to likes2party@email.com than just DMiller@email.com.

Here are 10 quick fixes you can make to your résumé to get a better response in your job hunt.

Fix No. 1: Edit your personal information
Any time you include personal information, such as your hobbies, race, age or religion, you're setting yourself up for bias. Though it's illegal for employers to discriminate against applicants because of any of these factors,some will do so, regardless. Plus, while some might think it's impressive that your favorite pastime is skydiving, others won't call you to interview for fear that your hobby will get in the way of your work.

Fix No. 2: Don't guesstimate your dates and titles
There's a vast difference between working as an executive assistant or an assistant executive. If you're unsure of exactly how long you worked somewhere or what your title was when you were there, call your previous employer to ask. Otherwise, when your future employer does a background check, it will seem like you lied on your résumé and you'll be eliminated from consideration.

Fix No. 3: Have a less-selfish objective
Employers are trying to determine whether you're a good fit for their organizations, so everything on your résumé should point to your experience. Employers would rather see a summary of qualifications that displays your accomplishments and background than a generic objective statement like "To gain experience in...".

Fix No. 4: Focus on accomplishments, not duties
Employers don't care so much what you did in your previous work, but what you got done. Rather than listing your job duties, show how each duty contributed to your company's bottom line. For example, anyone can redesign a company's Web site, but if you demonstrate how your redesign increased Internet traffic by 150 percent, the hiring manager will be more impressed.

Fix No. 5: Make sure you have the basics
Silly as it sounds, many people get so caught up in formatting and proofreading that they don't check for the most basic information, such as an e-mail address, phone number and address. Double-check that your résumé has this information -- none of your hard work will pay off if no one can get ahold of you.

Fix No. 6: Don't sell yourself short
It may not seem like you have a lot of experience in the field you're applying to but you probably have more than you think. Work is work, whether you have been paid for it or not, so include any volunteer work you've done. Awards you've received and your education information should also be listed. And, don't forget about any transferable skills you've learned in previous positions.

Fix No. 7: Watch for inconsistencies
Once you choose a format for your résumé, stick to it. If you decide to include periods at the end of your sentences, make sure they are at the end of each one. Use consistent fonts, sizes, bullets and other formatting options. Employers will notice your attention to detail and assume your work quality is of the same standard.

Fix No. 8: Fill in the gaps
Most people will tell you to wait to explain any gaps in your work history until you get to the interview. There's a good chance, however, that you won't get that opportunity if there are gaps in the first place. Explain what you were doing during lapses between jobs, even if you spent time with your family, had a long-term illness or traveled for a while. The employer will know you aren't trying to hide a sketchy past.

Fix No. 9: Stay relevant
If you worked in a fast-food restaurant in high school but aren't currently applying to a job in the food industry, leave it off your résumé. Many job seekers try to fluff their résumés with irrelevant job experience when they think they don't have enough know-how for the job for which they are applying. Keep your résumé to one or two pages and only include your most recent and pertinent work history.

Fix No. 10: Keep it simple

No one wants to look at a résumé on fluorescent paper, covered in crazy fonts and symbols. Don't try to impress an employer with your graphic design skills. Find an uncommon, yet attractive and simple layout to catch the eye instead.
Courtsey
10 Things to Leave Off Your Résumé
Rachel Zupek
Everybody knows that in most situations, less is more -- your accessories, eating habits and especially your résumé.
Job seekers do themselves a disservice when they send out résumés with too much information. Employers don't have the time or the patience to sift through irrelevant information like your hobbies, interests or how many grandchildren you have. Just stick to the basics and you're good to go.
Here are 10 things to leave off your résumé and why:
1. Your picture
Why to leave it off: Unless a job posting specifically asks for your picture (and very few jobs will), don't include it just for fun. Not only are your looks irrelevant to your potential as an employee, but you're putting employers in a bad spot. If they have a picture of you and choose not to hire you, it's possible that you could come back with a discrimination lawsuit. In most cases, they'll throw your résumé away without looking at it, to avoid the issue altogether.
2. Interest and hobbies
Why to leave them off: Unless your interests and hobbies have something to do with the job you're applying for, there's no reason to include them. If you want to show how your passion for art would be an asset to a grapic design position, that's one thing. But telling employers that you love to skydive on an actuary application is another. In general, make any applicable connections between your hobbies and the job in your cover letter. Better yet, save them for the interview when you're asked what you like to do outside of work.
3. Spelling mistakes and grammatical errors
Why to leave them off: Most employers assume that if you're OK with sending out a résumé littered with typos and mistakes, you'll have the same lack of concern for the work you do as an employee at their company. While spell check picks up most errors, it can miss something major -- did you work the late night shift? Or did you forget to include the "f" between "i" and "t"? -- so have several eyes look over your résumé before sending it out to employers.
4. Personal attributes
Why to leave them off: Similar to sending a picture with your résumé, your height, weight, age, race or religion are all unimportant to an employer. Though it's illegal for employers to discriminate against applicants because of any of these factors, some will do so, regardless. Keep everything on your résumé pertinent to the job, and you'll be fine.
5. References
Why to leave them off: Many job seekers still include references on their résumé or they include a line that says, "References available upon request." This tactic is not as effective as it used to be. Jack Harsh, an adjucnt professor at the University of Richmond Robins School of Business, says that when he receives a résumé with references attached, he gives them virtually no weight. "They seldom are specific to the role my company seeks and are not meaningful in considering qualifications or traits of successful candidates," he says. Wait to broach the topic of references until you're asked for them.
6. Minute details
Why to leave them off: Hiring managers don't need to know the details of every task you've ever done in every job you've ever had. It's just too much information, and usually half of that information isn't relevant. Employers want to be able to see at first glance that you're a great candidate, so pick out those details that are most relevant to the job for which you're applying and omit the rest.
7. False information
Why to leave it off: Plain and simple, no one wants to hire a liar. Don't say that you have a master's degree if you've only earned your bachelor's; don't say you're presently employed at a company if you've recently been fired; don't list your salary history as 20 percent higher than it was. Everything you tell an employer can be verified, so play it safe and be honest.
8. Flair
Why to leave it off: No one wants to look at a résumé on fluorescent paper, covered in crazy fonts and symbols. Similarly, links to personal Web sites, your photo-sharing site, or strange e-mail addresses can also be left off. Employers are less likely to respond to likes2party@email.com than just DMiller@email.com.
9. Negativity
Why to leave it off: Never put anything negative on your résumé. Don't include your reasons for leaving. If you left the position due to a layoff or you were fired, for example, bring it up only if asked. Never write anything bad about a previous employer. Don't explain gaps on your résumé by stating that you were in prison for 10 years for killing your husband. Keep your résumé all positive, all the time.
10. A selfish objective
Why to leave it off: Employers are trying to determine whether you're a good fit for their organizations, so everything on your résumé should point to your experience. Employers would rather see a summary of qualifications that displays your accomplishments and background than a generic objective statement like "To gain experience in..."
Courtsey careerbuilder.com

How Long Should Your Résumé Be?

Is one page too short? Are two pages too long?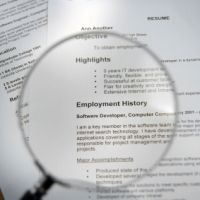 Résumés are a subject of great debate in the career world. What to include, what not to include; serif or sans serif font; what color paper; which jobs to highlight? And, more commonly in today's job market, how long should the résumé be? Does it matter?

We asked résumé experts for their take on whether job seekers should use a one- or two-page résumé and why it matters. Here's what they had to say:

The argument: One page

"Many people feel that a longer résumé makes them look more accomplished or important -- not so. Recent college grads and those who have only had one to two jobs don't need more than one page. Avoid excessive spacing to fill up the page as well and instead flesh out your skill sets, even if you think you have none due to little experience." -- Kristen Fischer, author of "Ramen Noodles, Rent and Résumés: An After-College Guide to Life"

"Someone newer to the work force may have a one-page résumé, with a more seasoned employee having two or more. Most experienced employees cannot fit their work history onto one page, and that's fine. What is critical is that the important information stands out: a very brief summary of who you are, what you're looking for, your key accomplishments and strengths, which tells the employer why they should hire you. This should be captured at the beginning of your résumé in the top quarter of the page -- then the employer could quickly scan where you worked and when, along with more details listed under each position." -- Michelle D. Roccia, senior vice president of corporate organizational development from Winter, Wyman

"I personally believe that a one-page résumé, for the most part, is the way to go -- unless you are a very senior executive with a number of accomplishments through your long career. Otherwise, short and focused is better." -- Jim Joseph, author of "The Experience Effect" and president of Lippe Taylor

"Remember the length Golden Rule: You want your résumé to highlight your best attributes, and hiring authorities shouldn't have to search for them on your résumé. For this reason, stick to the one-page rule and carry over to a second page only if your experience warrants it. This will force you to choose only the most important information for your résumé." -- Alexis Lane, résumé writing specialist at Snelling Staffing - The Wyckoff Group

"While I understand that most candidates want a two-page résumé (or longer), I happen to know that employers put the most focus on a candidate's first page. Their attention starts to wane before they even flip the page. Therefore, appropriate and strategic editing is a smart move. Most job seekers find it difficult to be so objective about their lengthy and accomplishment-based history, so here's a good tip to keep in mind: Job seekers have to think of themselves as a product and their résumé their marketing campaign. Any good marketing director knows to focus on their target consumer while creating a marketing campaign, right? Same thing applies here. You aren't writing your résumé for yourself, but rather, for your potential employers." -- Lauren Milligan, résumé expert and job coach at ResuMayday

"A one-page résumé is needed to get you in the door. At the outset of the process, most companies are using software to scan for keywords and subsequently weeding out those who haven't included them. A two-page résumé is necessary once you've gotten in the door and are sitting in front of a human being. That said, it should not be dense. Bullet points are preferable to paragraphs." -- Frances Cole Jones, author of "The Wow Factor: The 33 Things You Must (and Must Not) Do to Guarantee Your Edge in Today's Business World"

"Less is always more when it comes to résumés today, with one page preferable, as overworked HR departments need to process information faster and are mostly using electronic solutions to identify candidates to start with anyway. On top of this, the more experience you put on there, the more dollar signs begin to flash in hiring managers' heads, and they worry about what it's going to cost to acquire such an experienced candidate." -- Scott Steinberg, CEO, lead analyst, TechSavvy Global

"It does matter, but primarily in relation to the quality of the content. Do not try to create a two-page résumé if you really only have related experiences that fill up one page. Using bigger font and wider space margins do not help your cause. Similarly, if you have a long, impressive career of related professional achievements, there is no need to try to shrink it all down onto one page. Having said all of that, do not go longer than three pages. You should be able to be able to present the best of the best in less than three pages, and if you must, you can add a note 'Additional work history provided upon request.'" -- Sara Sutton Fell, CEO of FlexJobs

The argument: Two pages

"A two-page résumé is important. Given the nature of today's job search, applicants are searching via the Internet and using job boards or a company's website as the first touch. HR professionals and recruiters are either sifting through the résumés or résumés are searched automatically via a computer program. The more information you provide, the better your chances for a call back." -- Allison Rapaport, founder of www.hospitaldreamjobs.com

"It is important to remember that whoever will be looking at your résumé will probably be looking at 50-100 others, so first impressions are critical. Like Goldilocks tasting the porridge, a two-page résumé is 'just about right.' A one-page résumé gives the impression that you do not have a lot of experience. Anything more than two pages gives the impression that you are 'all over the place' and simply don't have the ability to focus. Managers want to be reassured that you can zero in on what you need to do and get it done." -- Mario Almonte, managing partner, Herman and Almonte PR

The argument: It doesn't matter

"I am less concerned about a one-page résumé than assuring that a candidate for employment provides the necessary information in a concise, direct manner. It's the qualifications that need to get noticed. Tell the employer what you can do for them. Be concise but keep it to two pages. Grab their attention first and foremost. Design your résumé to bring out what the employer is seeking and align these requirements to your own personal strengths. Don't sell yourself –short -- quite literally." -- Wendy Powell, author of "Management Experience Acquired"

"It really comes down to relevant content. If you have the experience needed to back up the position you're seeking, then you need to share it. If it's more than two pages, then let it flow. If it's just fluff to fill blank paper, limit that fluff to the pertinent information. Experienced hiring managers are very good at identifying fabricated content"-- Joel Rudy, chief operating officer of Photographic Solutions Inc.

"Job seekers focus on the wrong thing when they obsess about whether hiring managers prefer a one- or two-page résumé. Job seekers with great experience, skills, industry connections and attitudes can stop worrying about the one- versus two-page résumé dilemma and be assured that hiring managers are not going to rule out a terrific candidate for sending a two-page résumé instead of a one-page résumé." -- Janet Civitelli, Ph.D., workplace psychologist and founder of career advice website VocationVillage.com

"Your résumé is your introduction to a new company. It says volumes about you before you ever get a chance to and may decide if you get to say anything yourself. One or two pages don't really matter, but two pages in most cases are all you need. Résumés should incorporate both responsibilities and accomplishments, conveyed in specific and measurable form -- how did you make or save your company money?" -- Ira Bershard, Kaye Bassman

"I've seen stacks and stacks of résumés and have strong opinions on how they should be organized and written. As far as number of pages required for a résumé, the idea that everything should fit on one page is dated. Don't leave key experience out just because you're trying to keep it to one page. But do make sure all of the key important experience is on the first page and highlighted appropriately. A good way to accomplish this is by creating a 'career highlights' section at the beginning of your résumé." -- Jenna (Gruhala) Oltersdorf, principal, Snackbox

"A two-page résumé full of fluff and padding kills interest. Yet a one-page résumé that
leaves out compelling selling points shortchanges both the applicant and the hiring company. The length of your résumé should be determined by how long you can keep the story you're telling compelling. You need to pique enough interest to generate an interview, not hide your strengths in a pile of unimpressive blather and puffery." -- Barry Maher is the author of "Filling the Glass"

"Although I do prefer to see a one-page résumé, it's a mild preference and I definitely think this issue gets overemphasized. I have hired applicants that submitted a two-page résumé and would do so again in the future. My best advice is to keep in mind that hiring managers often scan résumés for only 20-30 seconds each. Because of this, the wording of your bullet points is crucial; they must be succinct and attention-grabbing. Also, consider placing a bulleted list of work accomplishments (from all jobs) at the top of your résumé. This technique is gaining more and more popularity as it can really help to grab the attention of the manager that is scanning the résumés." -- Kris Alban, director of strategic partnerships, iGrad

The verdict: The length of your résumé will vary based on your experience. If you're a new graduate or you have less experience, keep your résumé to one page. If you're a seasoned employee in the work force, it's OK to have your résumé a little longer.

No matter how many pages you choose to include, make sure to include all of your pertinent career information on the first page -- and in the top portion -- of the document.
Target Your Resume to Prospective
Employers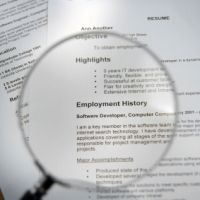 Your résumé isn't about you, it's about them. That is the first guiding rule you should remember as you craft your employment history and achievements to match the needs of the companies you want most to hire you.


Consider your audience by researching the company and its industry, and tailoring your résumé to the challenges faced by both. Point out how your talents and training dovetail with the company's needs, so hiring managers can picture you in the job they have available or other opportunities that come up in the future.

Start out with a short professional profile that succinctly draws a picture of your job skills, work ethic and natural abilities that translate into the kind of worker you are. The rest of the résumé should follow suit as it lays out a clear story of your work experience, education and the skills you developed.

Understand that most hiring managers are viewing your job history in a quick sweep. They want to see something that is easily readable. Don't use industry jargon or long sentences that create dense, hard-to-read narratives. Tell your story in bulleted form to create punch. Don't resort to résumé formats that look like a thousand others.

Throughout the résumé, aim for action. Using words like "I was responsible for ..." don't get to the heart of your abilities. Be specific about accomplishments, punctuating them with hard numbers -- increased production, sales figures -- where applicable. Use details to explain your work story. A résumé isn't just about what you've done, but about what you have learned, achieved and produced.

Online portfolio and extracurricular activities can play a role in your résumé
Don't indulge an inclination to show how social media-savvy you are by providing links to personal pages on YouTube or Facebook, because they are just that -- personal. A more professional tool is to have a link to an online portfolio that has visual presence with well-written sections about your accomplishments, career highlights and leadership and work style. Or direct people to your professional biography on LinkedIn or BrightFuse.

At the same time, your extracurricular activities or community service may tell something about the skills you bring to the job. If they show qualities such as organizational ability, leadership potential and creative thinking, list them along with work and educational history to show how you use your talents outside the workplace.

There's never a good reason to lie on your résumé, and any overstatement of job history or academic achievements can easily tarnish your credibility. Routine background checks and online research can so easily expose an untruth that the risk simply isn't worth taking when your integrity is at stake.

The progress you've made in your career shows a prospective employer the kind of direction your work experience has taken. This may be especially necessary for those moving into a new industry, where transferable skills are particularly important. Showing how your job skills are relevant to the requirements of a company's industry, as well as the company itself, is one way to portray yourself as the solution seeker they are looking to hire.
Buzzwords That Can Damage Your Résumé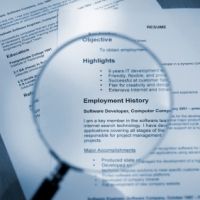 Your résumé is designed to communicate your accomplishments and distinguish you from other job seekers, but there are certain words and phrases that can actually disguise your qualifications. For example, if an applicant writes, "Assisted manager in optimizing marketing campaigns," it's difficult to determine exactly what the person did or how he or she did it.

Indeed, peppering your résumé with vague terms can be a red flag to employers, who may feel as though you are trying to exaggerate your qualifications or hide knowledge gaps.

Here are some common buzzwords to avoid when writing your résumé and advice for what you should say instead:

"Familiar with ..."
Using this or similar terms -- "knowledge of ..." and "experience with ..." are close cousins -- can send your résumé to the bottom of a potential employer's pile of applications because your level of knowledge in a certain area can't be accurately determined using these phrases.

For instance, an administrative professional who says she is familiar with Microsoft Access may have used the program everyday ... or only twice in several years. Be as specific as possible when discussing the skills you possess. For example: "Executive assistant with thorough knowledge of Microsoft Office applications, including daily use of Word, Excel and PowerPoint. Working toward Microsoft Office Specialist designation."

"Optimize," "leverage" and "utilize."
Many applicants insert business buzzwords into their résumés in an attempt to sound more accomplished or sophisticated. But rather than making you sound "in the know," these types of words can make it seem as though you can't communicate in a straightforward manner.

Keep things simple: Instead of saying that you "utilized resources to improve company Web site," describe more specifically how you increased the number of visitors to the Web page. As much as possible, quantify your achievements to truly show the impact your actions had.

'Responsibilities include ...'
One of the biggest mistakes job applicants make is including a long, drawn out list of all of their duties in a previous position. Although it's OK to mention a few basic functions, hiring managers likely know the types of tasks you performed in a previous role and don't need a detailed breakdown. Instead, describe how you helped a previous employer save money or increase efficiencies, your advancement in a past role, or how you changed a job you held for the better.

'CFA,' 'MCTS,' or 'CPS.'
What do these letters stand for? They are all acronyms for common professional certifications (Certified Financial Analyst, Microsoft Certified Technology Specialist and Certified Professional Secretary, respectively). If you didn't know that, you can rest assured that many hiring managers won't either. This is especially true because the first person to see your résumé is often a human resources professional or internal recruiter, not the person who directly supervises the open position. As a result, try to avoid industry jargon so anyone reading your résumé can understand your unique selling points.

Although it's best to steer clear of buzzwords in your résumé, you should use keywords to stand out from other applicants. Keywords are terms that appear in the job description. They describe duties, qualifications or certifications, for instance, and may be used by résumé-scanning software to determine which applicants best meet the qualifications of the job. Including phrases from the job description is a good idea, but only if the terms accurately describe your background.

If you're wondering whether or not to use a word or phrase in your résumé, ask yourself if it helps convey the value you can bring to a prospective employer. If a term is used to cover for a lack of experience or make it sound as though you're a sophisticated insider when you're not, leave it out two pages too long?